Your contracting education does not stop after acquiring a license. Continued education is important not just for legal reasons but to also ensure you maximize your offerings as a contractor to potential customers.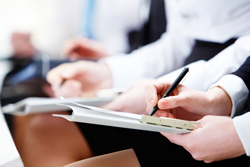 In 2007, Oregon Legislature passed a bill requiring the CCB (Construction Contractors Board) to implement a continuing education system for all contractors for both commercial and residential. Residential continuing education (RCE) is required unless you are exempt or have a limited RCE exemption. Contractors endorsed only as a Residential Developer are exempt from all continued education requirements and Residential Limited Contractors are required to complete only 8 hours of RCE. A total of 16 hours of RCE must be completed during the two year license period. Fortunately, contractors are given the option to choose electives they feel are more prominent for their construction or business.
Most of the electives are either free or very low cost such as:
Manufacturers offering installation training
Safety trainings
Business training
Trade associations
Colleges, universities or trade schools
Education for other construction related licenses or certifications
Contractors must fill in specific information about the classes taken on their renewal form and must keep proof of all continuing education taken by you and those in your company for at least two years. Owners, officers, members or any combination of those titles are required to take the training. Plumbing, electrical contractors, architects and engineers are exempt from some of the courses. For a commercial contractor, the CE must be taken by key employees of the business such as corporate officers, managers, superintendents, lead person and any other person who exercises management or supervisory authority over construction activities. Some of the topics for CE training are installation methods, best practices, and product training and construction science.
If you are in need of a Oregon general contractors license contact A1 Contractor Services today. We're an experienced Oregon general contractors license assistance company with competitive pricing.Contact us today to get a Oregon general contractors license assistance.
---
Additional Resources:
Get a Contractors License the RIGHT WAY! Call Us
(916) 394-1601