How to get a Contractors License in Nevada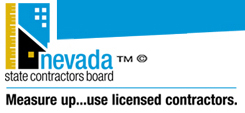 Do you have a proper Nevada contractor license?
The State of Nevada requires a licensed contractor to obtain the proper classification prior to bidding a project. The Nevada State Contractors License Board will only process complete applications and will not act as your agent in gathering information or supporting documents necessary for the consideration of your license. If you need help with Nevada contractor license requirements, call us today.
Reciprocal Agreements: Nevada has limited reciprocal agreements with the states of Arizona, California, and Utah. This Agreement applies to the trade examination only. This act of reciprocity does not include any of the plumbing, electrical, or fire protection trades. We have application packages for every state including some counties. Nevada Contractors License School or home study program will be available for exam prep.
We provide you with:
Complete application packages for individuals, partnerships or corporations as well as assistance with reference sheets. In addition a sample detail for the trade classification is included.
License verification for reciprocity
Nevada Contractors License Test Prep – Study Guide program with CD's and practice exams
Fictitious Firm Name Registration
Business Registration
Online filing with the Nevada Secretary of State of States office
Nevada contractor exam prep
Additional Services:
Licensed classification determination
Registered Agent Service
Replace qualifying party
Address Change
City/County Business license
Permit Information
If you are in need of a Nevada contractor license contact us today. We're an experienced Nevada contractor licensing assistance company with competitive pricing. Contact us today and we'll ease the stress of dealing with state agencies to get your contractor license. Contact us today on how to get a contractors license in Nevada.
Additional Nevada Contractor License Resources:
Get a Contractors License the RIGHT WAY! Call Us
(916) 394-1601