An owner-builder is a person who owns the property and is either building or improving the residential structure on the property for his or her own occupancy and does not intend to sell or lease the residence within one year.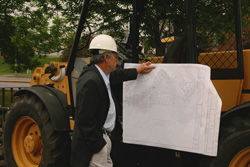 They act as their own general contractor without a Nevada general contractors license, who either do the work themselves or hire subcontractors to do the work. If you, as a homeowner chooses to to hire a license contractor to perform work on your property, you are required to continue overseeing the job. consultants cannot take over the legal responsibility for the job. If you choose to hire a contractor, he or she must be licensed by the Nevada State Contractors Board. By law, anyone who contracts on a construction project valued over $500 is required to be licensed. To check if your potential contractor is license, ask to see his or her's pocket license ID card and check online or cal the Board offices to verify the license number.
When you are searching for a contractor, it is imperative you are aware of potential contractor scams. There are groups of criminals, generally temporarily passing by, that pose as door-to-door repair contractors to rip off owner-builders with painting, roofing and paving scams. Watch out for the following red flags with suspects who come across as friendly and solicit door-to-door; are reluctant to give an up-front price or provide a written contract; demand payments in cash; immediately cash checks and sometimes changing the amount before cashing; drive customized newer vehicles with out-of-state license plates; use toll-free numbers instead of local phone numbers; and offer complimentary inspections and then offer to fix them. Their scamming method usually consists of using left over material from other jobs, use cheaper but less reliable materials, push for new wood shakes under old roofing shakes and charge by the can for painting and then exaggerate the amount they actually use.
If you are in need of a Nevada General Contractors License contact us today. We're an experienced Nevada General Contractors License assistance company with competitive pricing. Contact us today and we'll ease the stress of dealing with state agencies to get your contractor license. Contact us today on how to get a Nevada general contractors license.
Additional Nevada Contractor License Resources:
Get a Contractors License the RIGHT WAY! Call Us
(916) 394-1601