Nevada contractors are required to license a bond, in supplement of a contractor's license. The bond can vary between $1,000 and $500,000 and is determined at the time of license approval.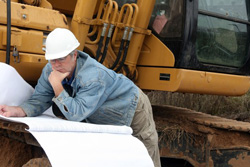 The State of Nevada Contractors License Board will determine the amount of the bond based on the type of license requested, monetary limit granted, past, present or future financial responsibility, experience and character of the applicant. Once the amount is determined, either a surety bond or a cash deposit will be required. Cash deposits must be in the form of a Cashier's Check for the full amount of the bond. A biennial administrative fee of $200 will be charged for all cash bond deposits. The board is required to hold the cash deposit for an additional two years after license termination or relief of the bond requirement. Surety bond payments require a completed form written by a surety company authorized to transact business in Nevada and whose long-term obligations are rated "A" or better. Surety bonds must have a continuous validation date. You may be required to pay premiums to the insurance company periodically to keep the bond in force but the bonding company has the right to cancel the bond. If that happens, you will have to replace the bond. If your bond is in cash, the agency will retain it until two years after license termination. If no claims are made against the bond in that time, you may apply to have the bond released to you.
There are additional bond requirements for residential pool and spa contractors that will be determined by the board. If you fail to file or maintain the required bond or fail to establish the required cash deposit can cause the board to deny, revoke, suspend or refuse to renew a license. The amount of each bond or cash deposit in this additional requirement must not be less than $10,000 or more than $400,000.
If you are in need a State of Nevada Contractors License contact us today. We're an experienced State of Nevada Contractors License assistance company with competitive pricing. Contact us today and we'll ease the stress of dealing with state agencies to get your contractor license. Contact us today on how to get a Nevada general contractors license.
Additional Nevada Contractor License Resources:
Get a Contractors License the RIGHT WAY! Call Us
(916) 394-1601