All licensed contractors are required to choose between residential or commercial endorsements, with some contractors being required to have both types of endorsement.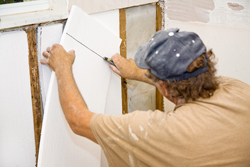 Contractors License Oregon – If you are a contractor and are not licensed with the proper endorsement, you may be subject to civil penalties.
Oregon law requires contractors to be licensed with correct endorsements because it reflects the type of work the contractor is allowed to conduct. Those with a residential endorsement may perform work on either residential or small commercial structure types and contractors with a commercial endorsement can perform work on both small and large commercial structures. If you are a contractor working on both residential and large commercial structures, you must have both types of endorsement.
Contractors that can perform only on small commercial structures have the flexibility of choosing between either a residential or commercial endorsement.
Residential structure means one of the following: a site-built home; the structure contains one or more dwelling units and is four stories or less; a condominium or rental residential unit that is part of a larger structure or a floating home. A small commercial structure means it is a nonresidential structure that has a ground area of 10,000 square feet or less, including exterior walls and a height of not more than 20 feet from the top surface of the lowest flooring to the highest interior overhead; a nonresidential leasehold, rental unit or other unit that is part of a larger structure; or a nonresidential structure of any size for which the contract price of all construction contractor work to be performed on the structure as part of a construction project does not total more than $250,000. A large commercial structure means a structure that is neither a residential or a small commercial structure.
Commercial contractors choosing a general contractor or specialty contractor endorsement will be required to certify that one or more "key employees" have the combined years of experience that total to the required amount for the chosen endorsement. "Key employee" means an owner or employee of a contractor who is a corporate officer, manager, superintendent, foreperson or lead person or any other employee identified by the board by the rule.
If you are in need of a contractors license Oregon contact A1 Contractor Services today. We're an experienced Oregon contractors license assistance company with competitive pricing. Contact us today to get a Oregon contractors license assistance.
---
Additional Resources:
Get a Contractors License the RIGHT WAY! Call Us
(916) 394-1601