Oregon law requires that all licensed contractors to qualify as independent contractors in order to be licensed with the CCB.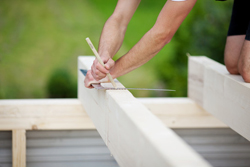 An independent contractor is either a sole proprietor or some other entity that demonstrates it is in business for itself and is not an employee. This means the individual or entity has all the decision making power in the business and is free of other direct control over the means and manner of providing the best service possible. In order to qualify as an independent contractor, troche three of the five criteria must be met:
The business must maintain a physical location different from the client jobsites
The business must bear the risk of loss
The business contracts with two or more clients
The business has the authority to hire others
The business has a significant investment in its operations.
There are two different classes of independent contractors. The first class, check non-exempt, means that the entity has employees or is allowed to have employees. These types of contractors are required to carry workers' compensation insurance at all times. The second, exempt, means that business will not have employees and does not need workers' compensation coverage. The business could work by itself; work with workers leased from a worker leasing agency or subcontract to other independent contractors that are licensed businesses. It is important to make the determination whether or not you will be classified as an employee or an independent contractor. Misclassification may be costly and that is something you would want to avoid from the start.
Reporting court judgments to the CCB must be delivered within 45 days from the date of final judgment record. A contractor is not required to send a copy of the final judgment if the contractor has paid the judgment and any other amount payable under the judgment within 30 days from the date in which the judgment was recorded, or the contractor is appealing the judgment and has filed any undertaking for the appeal process.
If you are in need of a Oregon contractors license contact A1 Contractor Services today. We're an experienced Oregon contractors license assistance company with competitive pricing. Contact us today to get a Oregon contractors license assistance.
---
Additional Resources:
Get a Contractors License the RIGHT WAY! Call Us
(916) 394-1601